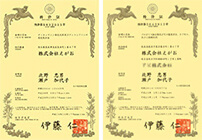 PATENTS
Ingredient: Anthocyanin
Ingredient: Propolis
Patents are used to protect a company's inventions (valid for 20 years after application, 25 years for some cases). Utility models are used to protect the shape, etc. of a product (valid for 10 years after application). These are both considered part of a company's assets. EGAO currently holds 2 patents and 10 utility models for techniques indispensable to develop health food products (as of February 2015, public information).

MONDE SELECTION
The Monde Selection is an authoritative selection committee with over 50 years of history that awards prizes for quality to products from around the world. Such honor is only bestowed upon companies that are capable of continuously maintaining and improving product quality. In 2009, EGAO Samedama Shark Liver Oil, EGAO Kurozu Black Vinegar, Aojiru Mansai Green Juice, and Iki Iki Lutein Eye were selected by the Monde Selection, and in each year following, a number of EGAO products have received awards for their unwavering high quality.

JAPAN HEALTH AND NUTRITION FOOD ASSOCIATION(JHFA)
The Japan Health and Nutrition Food Association (JHFA) is an organization that collects information on health functional foods (government approved food for specified health uses, foods labeled as functional foods, and foods with claims for nutritional functions), conducts surveys and research, and disseminates information. EGAO is a proud member of the JHFA.The JHFA also provides GMP certification, which is a system of production process management standards are used to ensure a product is safe and of stable quality by monitoring all processes, from receiving raw materials to production and final shipment of the product.
ISO9001
ISO certifications are international standards defined by the International Organization for Standardization. ISO9001 is an indicator that increases to customer satisfaction and continuous improvements to quality management systems are being made through product and service quality assurance. As part of our pursuit for complete customer satisfaction, EGAO is ISO9001 certified for our mail-order sales.

JAPAN DIRECT MARKETING ASSOCIATION(JADMA)
The Japan Direct Marketing Association (JADMA) is Japan's main public service corporation for mail order services. The purpose of JADMA is to maintain the trust of consumers and provide for healthy development of the industry, and it does so by providing quality aftercare, keeping advertisement styles in line, and working with consumer groups and government consumer offices. Only full members that have passed the strict examinations for entry can use the JADMA mark. EGAO is a full member of JADMA, a symbol of trust and reliability.